Friends, this is not a blog-friendly week. Let me just to the chase here. The next four days will be consumed with a) Bible Camp, b) my daughter's 8th birthday (it's her year for a party), and c) a visit from my brother -- that would be the brand-spanking-newest Dr. Bekker -- and his lovely wife. In fact, this very nanosecond I should be cutting vast quantities of colored duct tape rather than ... well, doing this.
But I'm feeling grateful for so many things that I just had to record the briefest of Multitude Mondays here today.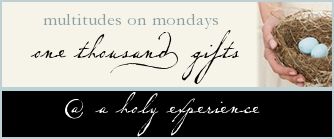 #223-229. Picking up our son from camp. Seeing his freckled grin again and the ease with which he's made himself at home there. Watching and listening to him sing "Blessed Be Your Name" with his buddies, arms linked. Knowing he missed us, but not enough to cause heartache. Feeling happy confidence radiating from him. Hearing him rattle off stories galore and encourage his sister to come along next year. Receiving reports from his counselors and other staff members, with words like "happy go lucky," "polite," and "awesome kid."
(Y'all, I'm gloating here, but bear with me. Remember, I've sat there
when my child asked a room full of people what a virgin was
. I've also sat there on numerous other uncomfortable occasions, like when his preschool teacher told me in front of him that he "has GOT to learn to keep his hands to himself." Take THAT, Mrs. Tinkham.)