Last week, I mentioned that our family was heavily involved in our church's Bible Camp for PreK-6th graders for the week.
What I didn't mention was that a week before the camp started, we were fifty-fifty as to whether the whole thing would actually take place. Staffing shortage, you know.
This year there was a small core of us, including my husband and another guy also named Tim, who handled all the planning and organizing (my job was planning the crafts and games). The only person who'd done this before and had any clue was
Stephanie
. Let's just say it's a good thing we switched to an unlimited-minutes cell phone plan, because evenings at our house were a conference call extravaganza.
The gospels tell a famous story of how Jesus miraculously fed a crowd of five thousand men, plus women and children, using a young boy's meager offering of five loaves and two fish. What gets me about this story is the passing mention of what Jesus did BEFORE opening the buffet. He organized the people. He thanked the Father. Then,
He broke the offering into pieces
. And lo, it was enough -- and then some.
The capability of our small planning group seemed like paltry loaves and fishes about ten days ago.
What are these among so many?
But what we had, we offered to Him. His breaking of it meant our realizing that our own strength was not fit to meet the purpose. Our natural talents could not meet the need of the hungry ones -- in this case, a crowd of orange-shirted children. We desperately needed His blessing, above what we could ask or think.
And He gave it. I asked Him not only to bless our labor, but also that we'd get through it thriving, not just surviving. That we'd be tired, of course, but not strung out or wanting to bang our heads against the wall. That there would be joy.
I believe He answered. Others -- our marvelous group of workers, many of whom materialized at the last minute -- seemed to concur. And the kids' enthusiasm sure didn't hurt!
Thankful for this miracle and so much more ...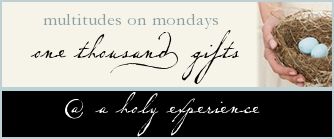 #230. Kids singing the story of Samuel.
231. The pairs of willing hands who helped me cut hundreds of strips of colored duct tape for the kids to make wallets.
232. A voicemail on my phone from a boy telling me how much fun he had all week.
234. Smiles from the tired serving ones who know how to find joy in the labor.
235. A brother in Christ for my husband to pray with.
236. Wild media rumors indicating that Stephanie and I
may
have been seen indulging ourselves with a girls' day out for a pedicure when all was said and done.
237. A visit from my brother and his wife halfway through the week, en route from California to Massachusetts ... and the way they spent time with my kids.
238. The ability to sing when I feel like sighing.
239. Brainstorming a summer to-do list with the family, even as the thermometer hits 100. Summer, YOU WILL NOT WIN.
240. The smell of my daughter's hair as I lift her from the pool.
242. Newly engaged friends cropping up everywhere.
243. June trips on the horizon.