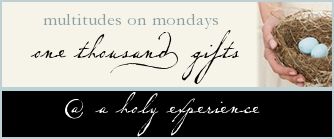 Wow, this was so not the weekend I had planned. Visions of family photos, church outing, neighborhood holiday party, Children's Meeting service, errands ... they all went up in smoke as I lay in bed, a slothful victim of something acting like the flu. So here we go -- thankful for ...
54. Enforced rest -- perhaps I needed it?
55. The knowledge that nothing, even inconvenient illness, happens by accident.
56. A functioning immune system.
57. Kleenex -- for the Weddell Sea of mucus that's still pouring from my sinuses. (Like the geographical reference? Like the mental image, which you'll try to erase from your memory next time you see me? Huh? Do ya?)
58. A husband who turns on the heating pad five minutes before I slide between the sheets at night.
59. The whispered words across the pillow -- and y'all, as God is my witness, I am not making this up -- "Mommy, you are mine and I am yours. Your banner over me is pure love." Garnished with a kiss. I am undone.
60. Running water, so easy from the faucet. I'm battling constant feelings of dehydration and yet, so aware that I don't have to walk a mile or more to the nearest well.
61. Books that carry a sickbed far, far away. (I read
In the Company of Others
in its entirety, and finished
The Happiness Project
)
62. Holiday cards arriving in the mail, alight with beautiful faces.
63. Pandora radio, for allowing me to listen to the transporting "O Holy Night" and "In the Bleak Midwinter" without having to put up with the barf-o-rific "Santa Baby" and its syrupy cousins.
64. Comforting soup delivered by
Vanessa
.
65.
A new read-aloud sent by my mom:
The Fledgling
.
66.
Friends who share my love for books -- and like my book recommendations :-).
67. That mountain of laundry waiting to be folded and -- ah, herculean task! -- PUT AWAY. It means we have clothes, threads aplenty, to wear. Clean ones, even. Smooth, wrinkle-free ... wait a minute. Now THERE I'm getting carried away