Good Monday Morning!
Our friend Melissa snapped a few shots of us this weekend. We shamelessly bribed the kids to cooperate and smile like normal people for the camera. So, my list today starts with her: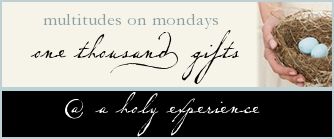 68.
Melissa
, for her generosity with her time and talents.
69. Dinner outdoors at a
trailer park eatery
, lit by a fire pit and glowing lights.
70. My kids' quirks, which help me be more patient and accepting of their quirkiest friends.
71. Piling on to the bed together to watch
"Babies"
... again. My girls and I especially love this documentary, which says so much with so few words. And it's available for watching instantly on Netflix.
72. An Epsom salt bath after a long run.
73. Discounted Nutcracker tickets ... because I ran into an old friend whose two teenaged boys (yes, boys) are performing in it.
74. Reading
Jotham's Journey
together at dinner, candles flickering.
75. The sweetness between Eliza and her brother -- the way their differences complement each other, the way they rely on each other, the way she snuggles up to him while we're watching "Babies" on the bed and he doesn't mind.
76. A five year old who still crawls in with us some nights, warm and pink and golden-haired.
77. The way my brother Peter still invents new words in his text messages. Like, "disfortunately." As in,
disfortunately despite my desire to do so my wife and I won't be able to join you in Boston for the holidays.
(Note: not perceiving that last bit as a gift, quite frankly.)
78. My craftsy mother's helper, BethAnn. She even got Ian doing beady little whats-its, and her enthusiasm for building gingerbread castles out of graham crackers and sugar cubes knew no bounds. Full-time moms: I highly, highly recommend snagging a mother's helper for a few hours every week or two. Just do it. Seriously.
79. The grace, in parenting, to let certain things go. To ask myself, "Does it really matter?" To say "no" to myself and then "yes" to them. Ian was all excited to get Eliza a Christmas present, but then he just couldn't stand to leave it wrapped for another week. Having the decision foisted on her, she called me while I was out doing errands to see if she could open it (they both knew it was a Nerf gun, that bane of my existence). I wanted to say no, of course. I wanted to reiterate the lecture about "good things are worth waiting for" along with a cautionary "won't you be happier to have it to open during our family gift exchange?" Then I thought, "Whose need is that? How important is it? Isn't it the spirit of generosity that matters most here?"
She opened the gift. Life marches on. And my house is a minefield of Nerf bullets. Amen.