In case you missed all the hoopla on Facebook and
on this very blog
, I ran
a half marathon
yesterday. My first ever. Wonders never cease.
(Jayna and I picking up our race packets on Saturday morning. Dude. I felt like such an athlete!)
It almost didn't happen. This was the situation on Saturday afternoon: I had a bad cold -- congestion, sneezing, the works. Also, a fever of 100.2. I won't mince words: It was depressing.
I had some words with my Savior. The conversation evolved from, "Lord, You know how hard I have been working for six months to do this thing that hitherto seemed impossible to me. You know the many mornings when I dragged myself out of bed muttering "I can do all things through Christ who strengthens me," because if I skipped my run, I wouldn't be in good shape for my Saturday training run, and then I couldn't do this half marathon. You know all the money I paid for therapy for my foot and IT band. YOU CAN'T TAKE THIS AWAY FROM ME!" ... to ... eventually ... "Lord, I know the worst that can happen here is that I miss the race. And since Your heart is unfailingly good toward me, You wouldn't allow that without having a very good reason for it. Also, You owe me nothing. You've already given everything. Your will be done."
Also, lest you think I'm completely heavenly and overcoming, I watched a lot of episodes of
Monk
. For distractional purposes.
Sunday morning, I arose at 5:00 after little sleep. I scrambled two eggs, rubbed plenty of Vicks VapoRub on my chest and face, and took three Advil. I felt okay to proceed. So here we go, counting the gifts unwrapped that morning: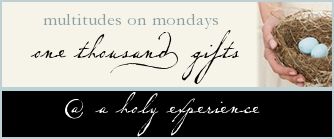 #128.
Vanessa
, for coming at 5:30 to pick me up and save me the parking headache. (Plus, my family needed our car for coming to spectate!)
129. Over-the-counter medications. I'm a natural-leaning person myself, but let's face it, OTC meds have their place and time, and this was one of them.
130. Tears at the starting and finish lines. Aren't there moments when crying makes you feel just a tad more alive?
131. The people who prayed for me to be well enough to run: Brian and Julia, Lisa, and many others.
132. The people who got up early on a Sunday morning to come cheer me on: my lovely husband and kids, Sam and Vanessa and their kids, my sister Kristen and husband Allen (who showed up at three different spots and ran that last hard hill with me), Greta (who ran a little ways with me, baby bump and all), CB and Michelle and their kids, and my in-laws. It meant SO MUCH to have those dear, cheering faces on the sidelines.
133. The people who sent me encouraging text messages before and during the race: Meredith,
Stefani
,
Stephanie
, and my brother Paul.
134. The women who have run with me Saturday after Saturday for the past six months, making this all possible: Jayna, Deborah, Yvonne, Kathy, Rebecca, Gigi. We did it!!!
135. Cooling breeze on my sweaty face at the crest of a three-mile-long hill.
136. Hearing these lines from
God is In Control
through my iPod on the cusp of that last, leg-jello, mile:
"This is no time for fear
This is the time for faith and determination
Don't lose the vision here ..."
137. Sprinting the last few yards to the finish! My time was 2:31. You know what's really disturbing? There were people -- actual human beings! -- who finished the FULL marathon at the same time. But they were male. And elite. So we don't need to think about that.
Stay tuned, because my very next post will be my FREE motivational guide: "From NonAthlete to Half Marathon Finisher in Six Months or Less." (For the grammar gurus: Less time; fewer months.)
(With some of my faithful cheering squad at the end ... thanks, Meredith, for the loan of the pompoms!)