If you're just visiting here, you might wonder, why the list?
The list, known as
Multitude Monday, or One Thousand Gifts
, is a way of keeping track, celebrating, all the manifestations I notice of God's goodness. It saves me from chronic curmudgeon-hood.
Laundry again! That floor -- I JUST VACUUMED IT. Wait -- another bill that has to be paid this week? Seriously?
Etc.
This list is a record of a conscious exercise to take joy in every good and perfect gift ... even the ones that seem like Aunt Mabel's lumpy hand-knit sweaters. You know what I mean.
So, here we go ...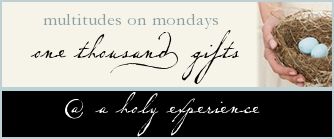 #211. My husband, the Professor, has accepted a job offer. STOP THE PRESS! Now, to review: He graduated with his Ph.D. 18 months ago, intent on becoming a real, live Professor. Just like Dad. And Uncle Tom. We assumed we'd be moving. We waited. And waited. And waited. And then, God opened a window. Or perhaps, a different door.
We're not moving. We were willing to move if God wanted to plant us elsewhere, but apparently that was not His will. Are we spoiled or what? We're staying right here in this city, with our beloved family members and friends. No arguments here.
Only one thing: He's not going to be a Professor. Which brings up a serious issue. Can I still refer to him as The Professor?
#212. When he shared his news with our family Google/Yahoo groups (his and mine), my siblings and their spouses (spice?) immediately began their customary banter. The one-liners were flying. This gave him an acute case of the warm fuzzies. It reminded me of why I love those weirdos.
#213. My mother-in-law took me and the girl-cousins out to tea this weekend. I sat with my 10-year-old niece. We chatted. She told me that she loves when I serve in her Sunday School class, because I "help her understand stuff." Translation: I have the girls act out the stories we learn, and I let her play the leading role, which she does with great gusto. What a girl! Definitely a gift.
#214. Endless laundry reminds me of the privilege of having clothing to wear. Plenty of it. And speaking of that ...
#215. Scrubbing the tub, I'm thankful that we have TWO tubs. Two! Well, a tub and a shower. And when we turn on the faucets, water comes out. Reading about the conditions where our
Compassion
kids live reminds me that running water and a clean tub are no small matter.
#216. Casting off my science-related inertia, I gathered the kids to make a worm farm in a jar today. Sometimes you just have to take a deep breath and make yourself do these things. My reward? Enthusiasm from two of the children. And dirty fingers to boot.
#217. Our dog has a way of wedging himself between the toilet and the wall in our bathroom, or -- his latest -- under our bed. Or, onto my feet while I'm 'cooking. Makes me giggle. Laughter, midway through a mundane day, is a gift.
#218. A date with my husband -- dinner (at a French restaurant in a funky part of town) and plans to see Shakespeare in the Park ... if the skies hadn't opened up just as we pulled into the parking lot.
#219. Rain! It's appeared three times in the last two weeks, which proves that when Texans pray, God listens.
#220. A slightly belated birthday gift and sweet card from a friend who has a way with words. Each re-read is another gift.
#221. Speaking of words:
A reminder to use them to build up in love
. Reminders like these -- printed and posted in my kitchen -- are a gift in disguise, coming back to haunt when I most want to forget them.
#222. You. For real, y'all. Every one of you who takes a few minutes of your day to read the words I peck out, whether they're serious or maybe a bit funny. Thanks especially to those who take a minute more to drop me a line and share your thoughts. Who understand when I don't respond to every comment, even though I want to (and try to). Every one of you is a treasure!