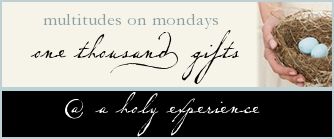 Time to get back into the Multitude Monday swing. Honestly, y'all, this is probably one of the best things I've ever done for my mental health. Like Zoloft, but better because look Ma, no unpleasant side effects!
If you've been reading this for a while, you probably know that the dominant event of 2010 for our family was
Caroline's swimming pool accident
. Although God has been gracious in healing us in every way from the incident and we've been able to move forward, I feel like there's so much I no longer take for granted. And certain events throw our blessings into stark relief because of their connection to that June evening.
Friday night we attended the wedding of our friends
Trevor Walker
and
Aubrey Tidwell
.
(I know; what a shame they're such a homely couple ...)
We met Trevor the night of the accident. He was one of the ones praying inside while our teenaged friend breathed life back into our daughter's lungs. Less than 24 hours later, he showed up at Caroline's hospital bedside.
There are no strangers in the Body of Christ. Only family.
Trevor joined a weekly dinner and Bible study in our home during the fall, and brought Aubrey to dinner. Our kids fell in love with them both.
So today I'm grateful for ...
95. Seeing my daughter, she who came back to us, dancing with the groom -- and both can really boogie! Knowing how close we came to this moment never happening makes it so precious ...
96. ... as was the Daddy/daughter dance. Aubrey and her dad graciously shared the floor.
97. Dancing with my son during the mother/son dance ... even if he kept stepping on my toes and acting totally embarrassed. (Yes, we have reached THAT stage. I am no longer allowed to tell cute toddler stories, either.)
98. The impossibility of a perfect family photo. In everything give thanks.
(Want to navigate somewhere at night using that reflection from my forehead? Be my guest.)
99. The groom's tearful vows, possibly the loveliest handwritten ones I've ever heard ... including the promise to be a loving father to their [future] beautiful children. These two have a passion for Jesus and for each other that's, well, electric.
100. Knowing there is One who will sustain them through whatever trials lie ahead, just as He has done for our family.
One hundred gifts so far! And so many more to come ...