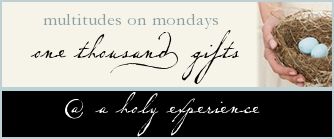 Sam
notes in the Comments that the book
One Thousand Gifts: A Dare to Live Fully Right Where You Are
is taking the "Christian-lady blogosphere" by storm and wants to know if I think it's worth the read for guys too.
I think it's more-than-worth the read for anyone who has yet to master "in everything give thanks." Anyone who complains. Anyone who's stressed. Who's dealt with hard things. Who can't always trace the rainbow through the rain. Who doubts that there's a God or that His heart can be good toward us
all the time
.
So, yeah. Not just for chicks, Sam. Thanks for asking!
Today I'm thankful for ...
101. New life. New life! Every pregnancy announcement thrills me as mothers around me burst into slow bloom. For example:
-The first friend I ever made that very first day in high school, the day of sweaty palms and a few hours' certainty that I was alone in the world and always would be ... now expecting Baby Number One. Congratulations, Erica!
- My good friend Greta ... at age forty-six, expecting Baby Number Six. Last time, during her homebirth, she went to deliver the placenta and out popped another baby. Undiagnosed twins! She's pretty sure it's just one this time. Her husband's response to the news? Not, "another mouth to feed!" but "Now we're even richer." Love that.
- And most exciting of all ... dum da DUM ... one of my siblings is finally reproducing! Paul and his wife Betty are expecting their FIRST baby in July. Don't they make the cutest parents-to-be?
The morning after we heard the news, my mother and sisters and I rushed out to the mall to shop for a creature the size of my pinky. Good times.
102. The ease of homeschooling my daughters, snuggled up on the couch or clustered quietly at the table.
103. The challenge of homeschooling my son, which keeps me more prayerful than prideful.
104. Sweet neighbors who popped in to play with our puppy when we finally left him alone to attend our church meeting yesterday. And brought doggie cookie mix.
105. This:
106. The fact that at this very nanosecond, instead of being QUIET during QUIET time, my kids are raising the roof ... because they're giggling hysterically together and blowing raspberries on each other's tummy tum tums.